Greek traditional Spinach pie with alfa country-style "kihi" filo pastry
A unique recipe for Greek traditional spinach pie with rustic filo pastry sheet "kihi" for every occasion and time of day! Follow the instructions and create the most delicious pie.
NUMBER OF
PORTIONS
16 PORTIONS
Ingredients
1 pack of alfa country-style "kihi" filo pastry
1/2 cup olive oil
FOR THE FILLING
1 kg washed and drained spinach (cut into large pieces)
5 tender leeks cut into thin slices
10 spring onions (tender) with their leaves cut into thin slices
1 dry onion finely chopped or grated
1 bunch of dill chopped (with its stalks)
1/2 cup trahana
450 g aged hard feta in large crumbles
200 ml. evaporated milk (1 small box)
1/2 cup extra virgin olive oil
2 large eggs
1/4 cup water
Salt (as desired)
Pepper (as desired)
Execution
Defrost the alfa 'kihi" filo pastry for two hours at room temperature. The greens should be well washed and drained. Cut them in large pieces in a large bowl. Add the finely chopped dry and spring onion, the finely chopped tender leeks, the tender onions with their leaves, salt and pepper and rub all the ingredients with your hands until they wilt, about 1-2 minutes. Add the trahana and the crumbled feta and stir. In a small bowl, beat the eggs, the evaporated milk and the olive oil. Pour half the mixture into the greens and stir well. In the remaining egg mixture, pour a little water to dilute the texture (about 50 ml). Oil a large, shallow pie pan of 40 or 42′ cm. Roll out the first large filo sheet and make sure it protrudes from the pan sides. Sprinkle with a little egg mixture. Roll out two more filo sheets, slightly crinkled. Sprinkle with some olive oil in between. Then sprinkle lightly with egg mixture. Spread on the filling in a thin layer. Cover with three more crinkled filo sheets and sprinkle in between. Make sure that the top sheets do not have protruding edges. Make sure the dough surrounding the rim of the pan is not too thick. Twist in the protruding filo sheet in order to create a crispy edge all around the pie. Sprinkle with the remaining egg mixture. Score into pieces. Sprinkle with a little extra virgin olive oil. Bake in preheated oven at 180 degrees for about 1 hour. You can enhance the flavor of the pie with fresh mint, parsley or chervils (Mediterranean hartwort, chervils) or a few wild mountain artichokes and stamnagathi.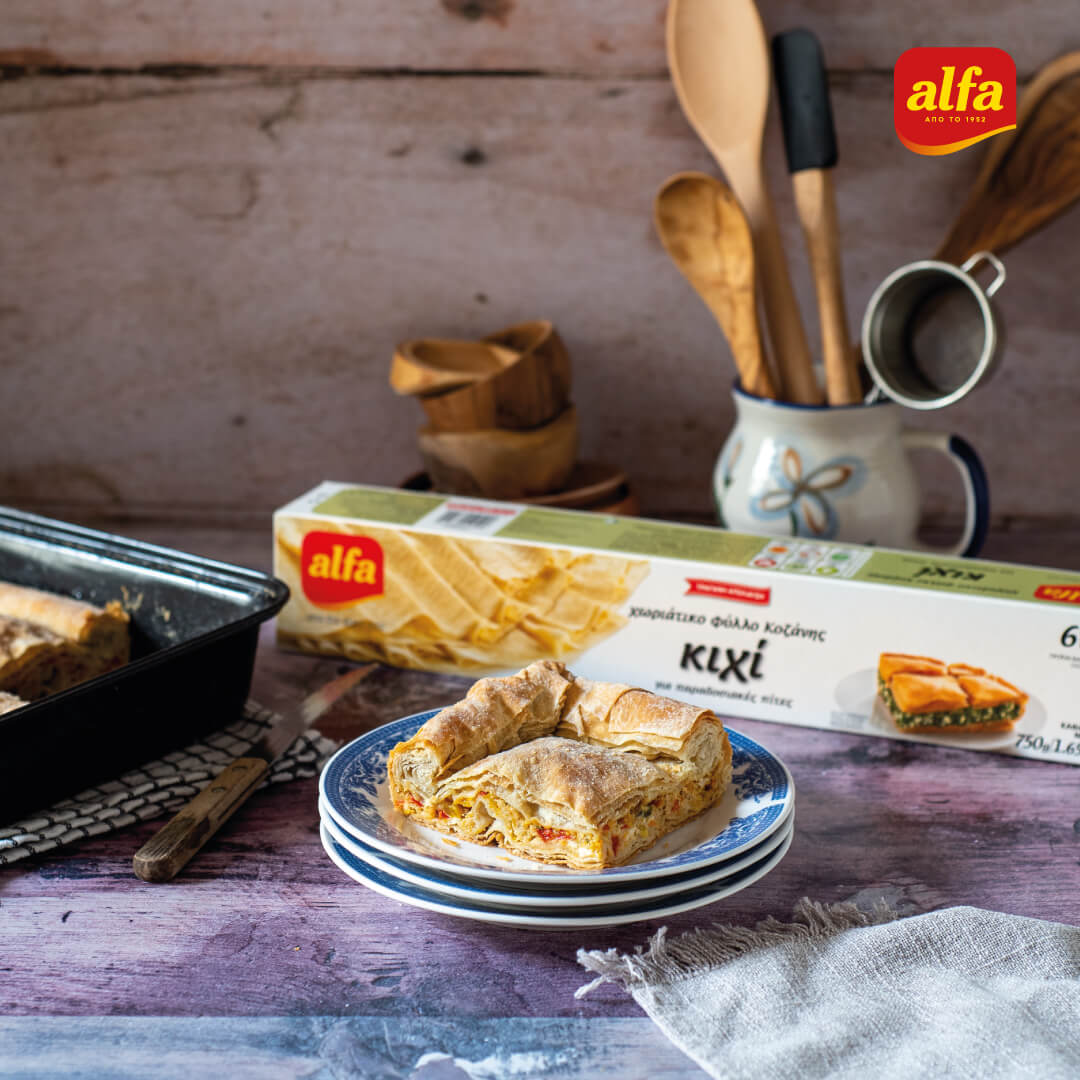 MEDIUM