Chania Easter meat cake
A traditional recipe that we mainly find on the Easter table. It is also made in other parts of Crete apart from Chania with variations. They usually make use of lamb left over from Easter, in combination with Cretan cheese.
NUMBER OF
PORTIONS
12 PORTIONS
Ingredients
1 package of alfa puff pastry "tou cheriou sas" (2 sheets)
1 egg yolk
2 tablespoons sesame seeds
FOR THE FILLING
1 1/2 kg lamb or goat. Preferably from a young animal. Arm or leg
1 dry onion
600 g Cretan farmer's cheese
400 g Cretan xinomizithra
200 g Cretan staka cheese
200 g Cretan malaka cheese
2 tbsp. chopped spearmint
2-3 pinches of cinnamon
salt
pepper
Execution
Remove the puff pastry from the freezer and allow it to defrost in its packaging for 2 hours. Rinse the meat, place it in a saucepan and cover with water. Add the onion and let it boil. Lower the heat to medium and skim the surface whenever necessary. Allow the meat to soften well and, after it cools slightly, clean and chop it. Then, add salt and pepper. Put aside 1/2 cup meat broth for the filling. You can use the rest of the broth for pilaf or soup. Add all the cheeses, the cinnamon and the mint in a bowl and mix. Add oil in an ovenproof rectangular pan. Spread one puff pastry filo sheet. Layer half the cheeses on top of it, add all the entire amount of meat and spread out. Then cover with the remaining cheeses. Sprinkle with the meat broth. Wet the edges of the lower puff pastry filo sheet and cover with the other filo sheet. Press the sides of the filo sheets together. Pierce the cake surface and bake in a preheated oven on fan-assisted mode at 180°C for about 50'. About 25' minutes into baking, brush the surface with a yolk dissolved in a little water. Sprinkle with sesame seeds and continue baking until the cake is golden-brown. Allow it to cool slightly and cut into pieces. TIP It is necessary to pierce the surface of the pie in order for it to breathe and become crispy.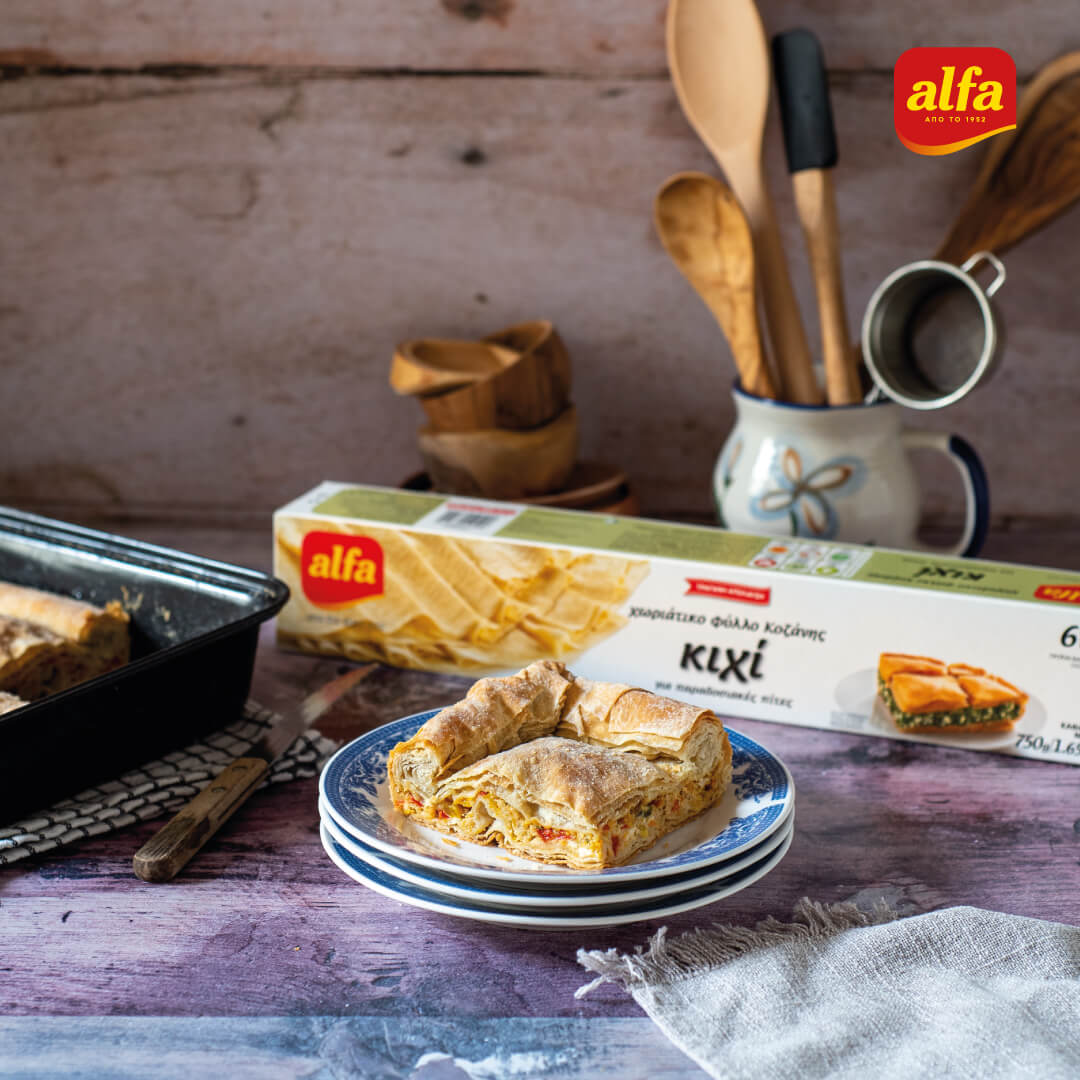 MEDIUM